Introducing: Loaded Ballona Willy And Moby Boards
Loaded have recently collaborated with the artist, Tomás Güereña, to create these whale of a time boards. Resulting in the creation of the Loaded Ballona Willy and Moby Boards!
The Moby and Willy boards are agile, compact and light, the Loaded Ballona elevates the mini cruiser experience. Meticulously sculpted curvatures result in a unique mini "longboard" with tuned steering and responsive handling.
With a carefully crafted 3-dimensional spoon concave placed delicately around the front of the truck, the Loaded Ballona offers crisp grip for your feet and pampered comfort. The spoon concave doubles in functionality by giving a slight wedging to the front truck, increasing you turning angle for heightened agility and responsiveness.
It wouldn't be a whale without a tail. The low-angled spade-shaped tail is designed to work seamlessly with longboard trucks and wheels, providing the user with the leverage and mobility needed for traversing any environment.
Let's talk about the setup:
Moby:
Loaded Ballona (Moby) deck
Paris V2 150mm 50° Raw trucks
Orangatang 65mm Fat Free
Loaded Jehu V2 bearings
Loaded button head hardware (1")
Assembled on outer (16") wheelbase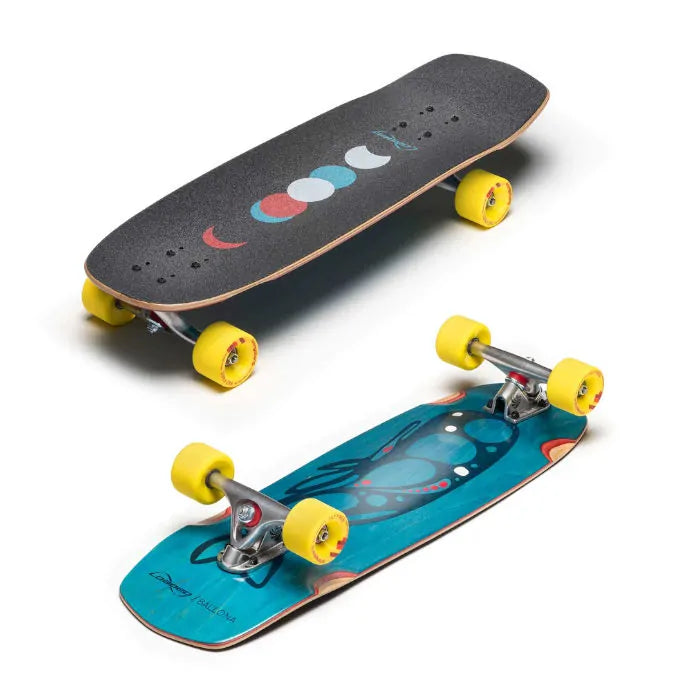 Willy:
Loaded Ballona Willy deck
Paris V2 150mm 50° Raw trucks
Orangatang Knuckles (soft/orange) bushings
Orangatang 65mm Love Handles wheels
Loaded Jehu V2 bearings
Loaded button head hardware (1")
Assembled on outer (16") wheelbase
Deck Specification:
Length: 27.75″ / 70.5 cm
Width: 9″ / 22.9 cm
Wheelbase: 14.75-16″ / 37.5-40.6 cm
Profile: rocker
Weight (deck only): 2.6 lb / 1.2 kg